Description
Introducing the DuctMaster, a high-performance contact cleaning machine designed for efficiency and ease of use. This robust device utilizes a 1 ½" hose and a fast-spinning motorized brush powered by up to four 7-amp motors, providing 75 Water Gauge of Static Pressure for superior suction. It's equipped with 12" heavy-duty non-marking wheels for easy maneuverability and a 3" vacuum opening for hose attachment. The DuctMaster features a dual-stage filtration system and a debris bag for effective dust and debris capture. It also includes a remote control for adjusting brush speed, and a lightweight, high-torque motor that ensures optimal duct cleaning. With its compact size of 21" W x 36" D x 40" H and weighing only 94 lbs, the DuctMaster is a versatile and reliable choice for all your duct cleaning needs.
SKU: FG0090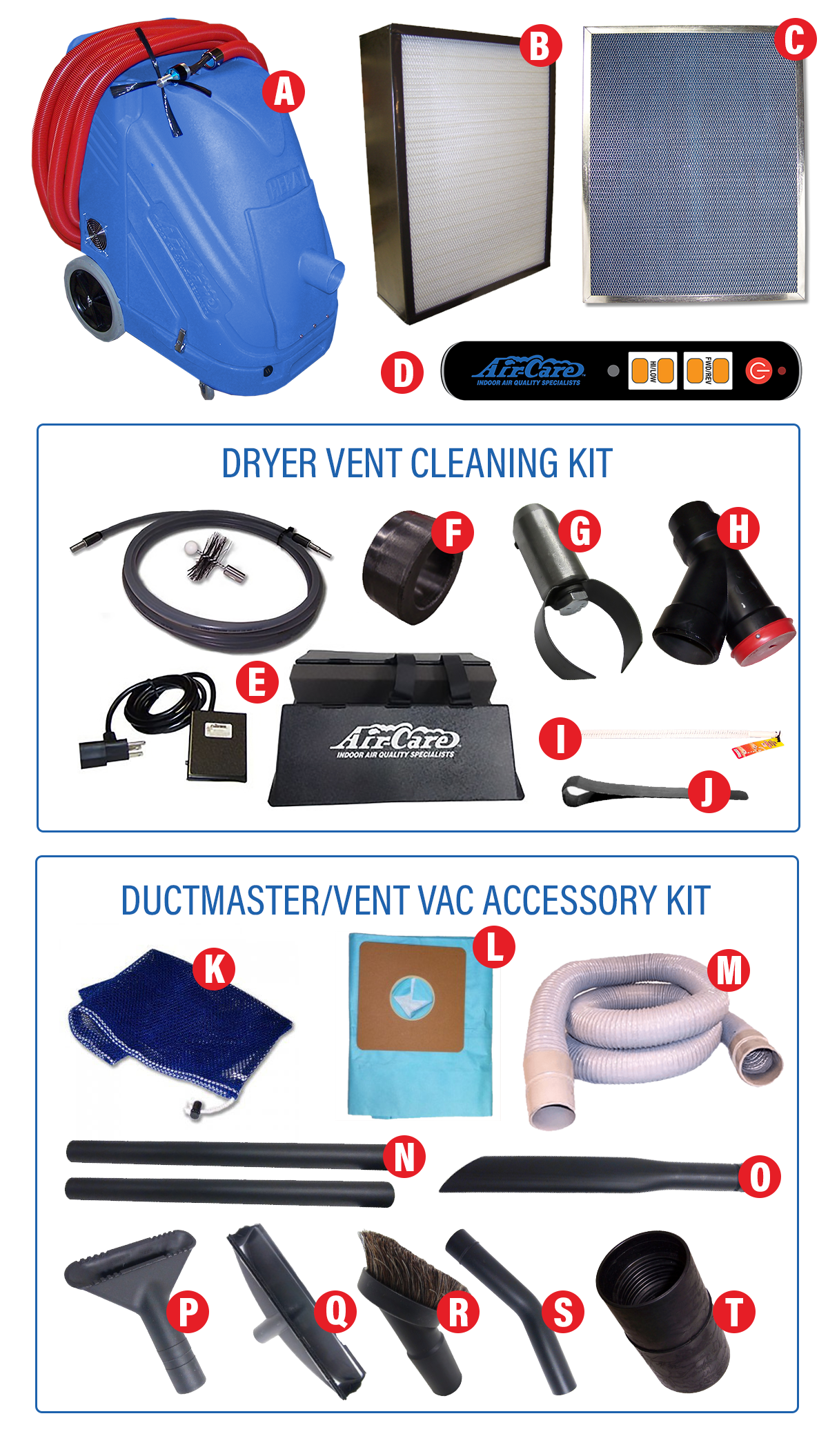 A) Air-Care DuctMaster III w 1.5" Hose 1 ½" X 35' Brush and Motor Assembly. Includes 12" Pancake-Style Brush
B) 4th Stage HEPA, 13-3/8" x 17-5/8 x 3-1/8"
C) 3rd Stage 13" x 15" x 1" Electra Silver Washable filter
D) Universal Remote
Dryer Vent Cleaning Kit
E) Drill Powered Dryer Duct Cable (5/16' core x20 ft) with 4" Brush
F) Adapter – 3 inch I.D. Hose to 2 Inch Tools
G) Nest Claw
H) 3" x 4" x 3" "Y" Adapter
I) Lint Brush, 24"
J ) Dryer Exhaust Flap Clip
DuctMaster/Vent Vac Accessory Kit
K) Equipment Bag
L) Dual Stage 15 Gal. Bag Filter (5/pkg.)
M) Hose, 3" x 8.3' W/Cuffs
N) Wand .1.25" OD (2)
O) Crevice Tool 1.25"
P) Upholstery Tool 1.25"
Q) Floor Tool 1.25"
R) Upholstery Brush 1.25"
S) Wand 1.25" OD (1)
T) Adapter, 3" to 2" Hose Cuff (Fits the 1-1/2 and 2" Cuffs on Red or Blue Hose, and Grey vacuum hose with tools.
| | |
| --- | --- |
| SPECIFICATION | DESCRIPTION |
| Size | 21" W x 36" D x 40" H |
| Weight | 94 lbs |
| Power requirements | 115 Volt AC, 60Hz, 14 AMPS x 2 (Optional: 220/240 Volt, 50/60 Hz, 8 AMPS x 2), Power Brush draws 2 AMPS for 115 Volt and 1 AMP for 220/240 Volt |
| Power Cords (qty 2) | Attached |
| Filtration | 4 stage HEPA |
| 1st and 2nd Stage | 15 Gallon Dual Stage Bag |
| 3rd Stage | 13" x 15" x 1" Electra Silver |
| 4th Stage | 14" x 18" x 3" HEPA Filter |
| Hose Attachments | Hose, 1 ½" X 35' DuctMaster Brush and Motor Assembly. Includes: 12" Pancake-Style Brush, .045" BLK Bristles. Power Brush RPM is 2,000 max. with 1500-Watt Brushless DC Motor. 3" x 8.3' Hose with Cuffs |
| Operating Environment | 25 to 125 Deg F (-4 to 50Deg C) |
| Construction | Rotational Molded Poly Body |
| Operating Controls, DuctMaster | 4 Individual VAC Motor Switches. "Independent Circuit" Indicator Light (Not included with 220/240 Volt, 20/50 Hz version). ON/OFF Brush Switch. Fwd/Rev Brush Switch. IR Handheld Remote Control |
| Air Flow | 120-500 CFM |
| Static Pressure | 75 Inches W.C. |
| Motors | 7 AMP Integrated Motor for each Blower (4) (4 AMP @ 240 Volts on 220/240 Volt, 50/60 Hz version) |
| Blowers | Single Stage, Tapered Blade, Low Noise, High Efficiency Vacuum Wheels (4) |
| Wheels | 12" Fixed Rear and 4" Front Swivel Non-Marking Wheels |