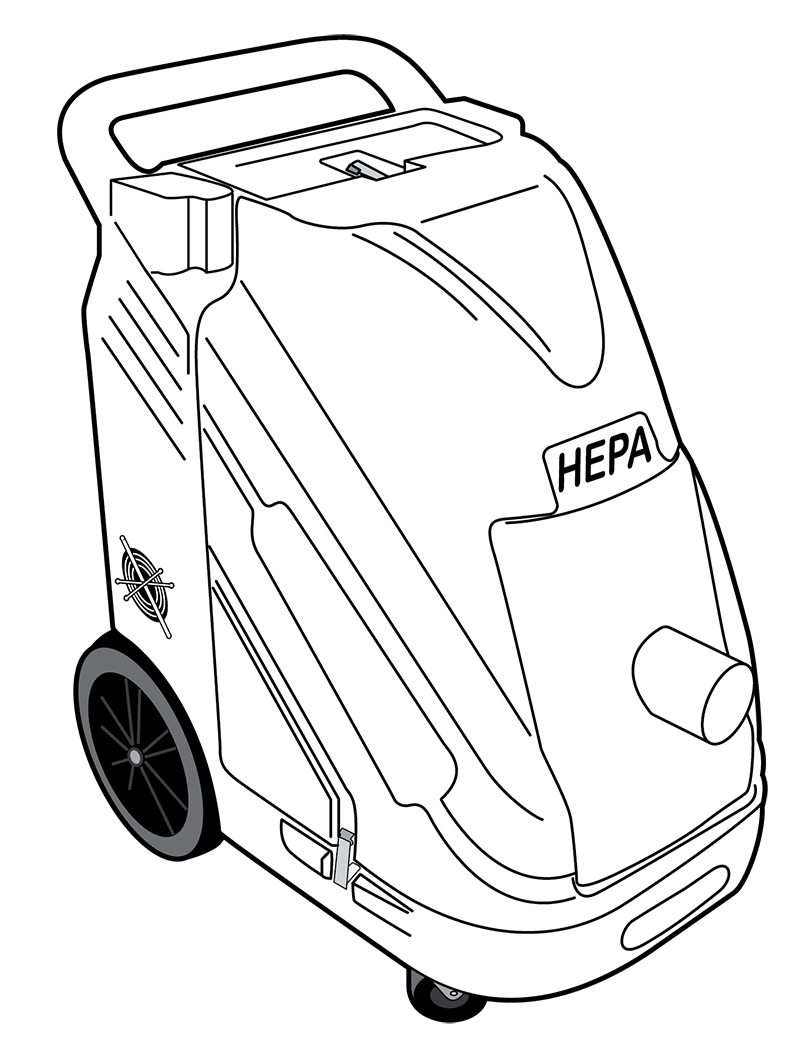 Remove the outer box and inspect for damage. Report all damage immediately to your carrier. If special set-up instructions are required, they will be taped to the outside of the Equipment or in the "Operating" section of this manual.
Inspect all of the packing material for small parts before discarding packaging material. Report all damage to Air-Care immediately. Any attempt at repairing damages may void warranty.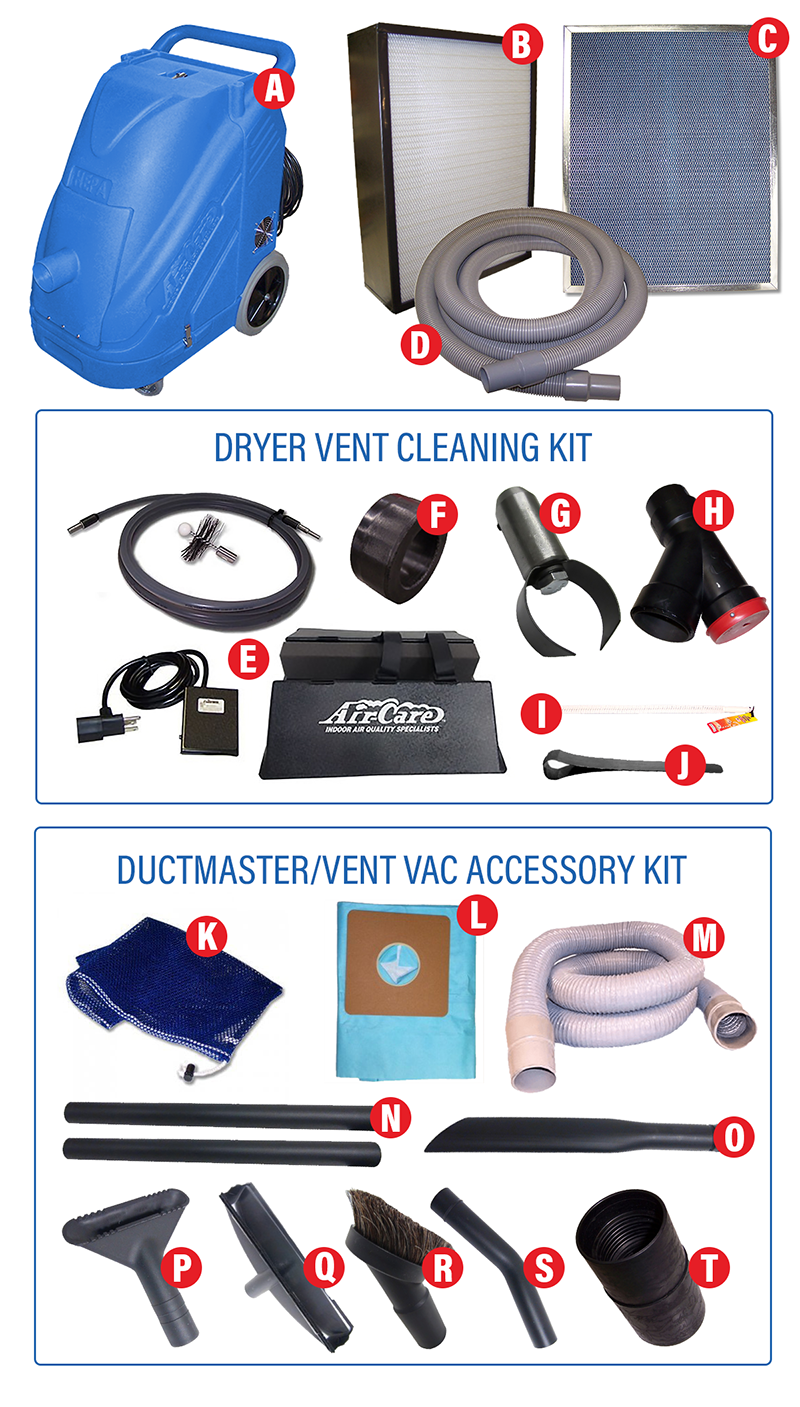 A) Vent Vac III, Complete Assembly
B) 4th Stage HEPA, 13-3/8" x 17-5/8 x 3-1/8"
C) 3rd Stage 13" x 15" x 1" Electra Silver Washable filter
D) 12.5 Ft. Hose
Dryer Vent Cleaning Kit
E) Drill Powered Dryer Duct Cable (5/16' core x20 ft) with 4" Brush
F) Adapter – 3 inch I.D. Hose to 2 Inch Tools
G) Nest Claw
H) 3" x 4" x 3" "Y" Adapter
I) Lint Brush, 24"
J ) Dryer Exhaust Flap Clip
DuctMaster/Vent Vac Accessory Kit
K) Equipment Bag
L) Dual Stage 15 Gal. Bag Filter (5/pkg.)
M) Hose, 3" x 8.3' W/Cuffs
N) Wand .1.25" OD (2)
O) Crevice Tool 1.25"
P) Upholstery Tool 1.25"
Q) Floor Tool 1.25"
R) Upholstery Brush 1.25"
S) Wand 1.25" OD (1)
T) Adapter, 3" to 2" Hose Cuff (Fits the 1-1/2 and 2" Cuffs on Red or Blue Hose, and Grey vacuum hose with tools.
Always use safe and common sense precautions when working with Air-Care equipment. Do not block walkways with equipment, and remove delicate and breakable articles from the immediate work area. The following are precautions that should be reviewed by all persons who will be involved in the cleaning activity.
• Other than the 3 filters, there are no user serviceable components in Air-Care TurboJets. Only trained technicians should attempt to make internal repairs on this equipment.
• Always unplug both power cords before removing the covers or working on the wiring.
• Inspect AC power plugs to be sure the ground pins are in place.
• Never connect power to Air-Care equipment unless all covers and safety shields are in place. Mechanical and electrical parts could activate and cause injury.
• Never allow anyone but a properly trained technician to use the equipment or cleaning products.
• All Air-Care equipment is designed for US standard 115 volt, 60 Hz AC. The Vent Vac III is optionally available in 220/240 Volt, 50/60 Hz Power. Always check the specifications on the equipment before connecting electrical power to Air-Care Equipment.

The Vent Vac III has significantly MORE static pressure than Air-Care TurboJet Negative Air Machines and will be able to pull heavy, moist or sandy construction debris out of dryer vents, commercial ducts, chimneys, and restoration areas. It is NOT meant to be a wet vacuum for liquids.
To test a Vent Vac III, plug one of the power cords into a suitable 120-volt outlet.
A) Line #1 will supply power to VAC1 and VAC2
B) Line #2 will provide power to VAC3 and VAC4.
If all 4 VAC Motors are to be used at one time, Line 1 and Line 2 must be plugged into 2 independent power outlets.
C) If you are not sure if 2 outlets are independent, press the center "test" button; the green power light will only light up if the 2 power cords are in independent power outlets. The optional 220/240 Volt Vent Vac III also requires 2 independent electrical outlets; each must be 7.5 to 10 amps. This version does not come with a "test" button and green power light. Also, the test light my not light in Canada, even with 2 independent outlets.
WARNING: DO NOT TURN ON MORE THAN 2 VAC MOTORS BEFORE PERFORMING THE 'TEST',
WHICH WILL INDICATE A GREEN LIGHT IF PLUGGED INTO TWO INDEPENDENT OUTLETS. IF THE EQUIPMENT IS NOT PLUGGED INTO INDEPENDENT OUTLETS BEFORE TURNING ON MORE THAN 2 VAC MOTORS, A POWER SURGE MAY OCCUR AND TRIP A CIRCUIT BREAKER IN THE BUILDING.
Because of a unique full flow check valve system, any combination of motors can be used. Any one motor can be used by itself or any 2 or 3 can be used with the same airflow and static pressure (water lift).
One motor will provide more airflow than most single motor shop or HEPA vacuums, and two motors will usually be more than adequate for most vacuuming needs. In those cases where extra power is required, simply plug in the 2nd power cord and turn on a 3rd or 4th motor as required.
The Vent Vac III is an extremely powerful and versatile tool. The 3" vacuum hose is ideal for collecting construction debris without clogging and can be directly inserted into a 4" air or dryer duct. It can also be used with the "Y" adapter paired up with an agitation tool, such as the Drill Powered Cable or optional Air Whisk to be inserted at the same location. When connecting to a dryer duct, it is important to clip the outside flap open for proper cleaning.
For collecting debris in a variety of situations, the 2 ¼" extension wand, crevice tool, floor tool, bulk pickup too and 4" round brush are very useful.
In a basement duct system, it is best to attach the 3" hose to the trunk line and drive the duct debris downward from the vents with an air tool or a power brush. The small particles that are most harmful to the lungs (under 10 Microns) will be carried in the airflow and captured by the Vent Vac filters. Larger debris may require additional agitation to be fully removed.
The Vent Vac III's high volume and high static "water lift" make it even more effective at removing debris from smaller diameter air ducts than many other standard duct vacuums.
Air-Care has self-study and classroom and field training on how to clean all types of air systems, call 800-3229919 for details.
Prior to troubleshooting, check the following:
1. Be sure the power cords are plugged into 2 separate, dedicated power sources and verify that the wall outlet where the power cord is plugged into is working. (Plug in a lamp or other device and be sure it works properly).
2. Check that the dual stage, 20-gallon vacuum bag is not full, and that the 3rd stage electra gold pre-filter and 4th stage canister filters are not clogged.
3. Us the "test" button on the power panel to verify there are 2 independent power outlets being used.
PROBLEM 1: Low or no vacuum suction.
CHECK: 1. Filters are clogged, 2. Gasket is leaking, 3. One or more motors are not running, 4. The hose is clogged.
Actions:
• Replace the dual stage, 20-gallon vacuum bag filter.
• Clean the 3rd stage gold filter.
• Clean or replace the 4th stage HEPA filter.
• Inspect the gaskets on the door and under the HEPA, then Call Air Care for repair parts.
• Run one motor at a time to determine which one is not running.
• Remove the hose and check for vacuum then reverse the hose to suck out clogged debris if vacuum is ok. If there is still no vacuum, call Air Care.
PROBLEM 2: Circuit breaker in building trips.
CHECK: Both power cords are plugged into the same circuit.
ACTIONS:
• Check test light on panel, if it does not light, only use 2 motors
• Find a second independent electrical circuit for the second power cord
PROBLEM 3 : Excessive noise.
CHECK: White check valve located in III cabinet is installed upside down (air flow arrow should point up), OR One or more motor is bad.
ACTIONS:
• Remove check valve and install in proper direction
• Turn on one motor at a time to determine which one is bad, and then call Air Care for a new motor.
The Vent Vac III requires a minimum amount of maintenance, normally limited to cleaning or replacing filters as they become filled with dirt and debris. It is always beneficial to keep the exterior and interior of the machine clean. A qualified technician should perform all electrical or mechanical repairs.
Filter Removal & Replacement
1. Turn off all the VAC motors, and unplug the Vent Vac III.
2. Open the front door and remove the bag from its 3" tube on the back side of the door.
3. Carefully remove the 2-stage bag filter and dispose of it properly in accordance with any local state or federal regulations applicable.
4. If there is noticeable debris build up on the 3rd stage gold filter below the bag filter, push it to the rear and lift it off and clean it. It can be rinsed with water or sprayed with Dynamite cleaner and rinsed, but it must be DRY before reinstalling it onto the HEPA canister filter.
5. To remove the 4th stage HEPA, release the top latch and both side latches and lift the vacuum tank off the base.
6. Lift the HEPA out and inspect it for damage or clogging.
7. Install a new HEPA filter, by placing it into the base with the "flow" arrow pointing down.
8. Install a new dual stage bag filter following the instructions on the bag. It collects heavy debris in the bottom section of the bag and lighter debris in the top section.
VENT VAC III
Air-Care warrants this product to be free from defects in materials and workmanship to the original purchaser for a period of Three (3) years from the date of purchase. Components listed below are excluded from this Three year period and are covered for periods described below:
Vacuum Motors:   1 Year
Circuit Board & Remote:   1 Year
Speed Controller:   1 Year
Hose & Motor Assembly:   90 Days
Brushes, Wheels, & Filters:   No Warranty
Warranty covers both parts and labor (labor is to be performed at Air-Care's facility located at 3868 E. Post Road; Las Vegas, Nevada).
Warranty is extended to the original purchaser and is not transferrable.
This warranty does not extend to any damage to a product caused by or attributable to freight damage, abuse, misuse, improper or abnormal usage. Warranty is also void if the product has been modified or altered in any way.
The purchaser is responsible for the cost of shipping the equipment to Air-Care's facility for evaluation. If found to be defective and covered by the terms of this warranty, Air-Care will pay FedEx ground shipping charges on the repaired or replaced item back to the purchaser's location. Any additional expedited service charges for quicker shipping shall be born by the purchaser. If the product or component is not found to be a warranty issue, the purchaser will be responsible for return shipping charges.
Air-Care is not responsible or liable for indirect, special, or consequential damages arising out of or in connection with the use of performance of the product; damages with respect to any economic loss, loss of property, loss of revenues or profits, loss of use, or other incidental or consequential damages of whatsoever nature.
The warranty extended hereunder is in lieu of any and all other warranties, and any implied warranties of any type.
This warranty gives you specific rights. These rights and others vary from state to state.
Division of D.P.L. Enterprises Inc.
3868 East Post Road, Las Vegas, Nevada 89120, (702) 454-5515, FAX (702) 454-5225
Website: www.air-care.com • E-mail: Info@Air-Care.com